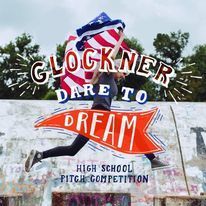 Students to Compete at Glockner Dare to Dream Finals
Erika Merrill, Business & Finance
Tuesday, March 02, 2021
This evening, Green High School is proudly represented by 4 teams that are competing in the Glockner Dare to Dream Finals. Teams are:
Mask on the Go by Tori Ratliff, Tyler Applegate, Charlie Blevins, Sydnie Gallion and Dawson Damron
Revolutionary Unique by Kaylee Blankenship, Kaley Klaiber, McKenzie Carver and Keelyn Castle
Zap Attack by Gracie Daniels, Adriah Barber and Camryn Pierson, and
Padded Racing Jackets by Lauren Gleim, Karleigh Adams and Johanna Stevens.
You can view the live presentations and awards by using the following link:
https://www.youtube.com/watch?v=U14tThcycIM
Good luck to each of our groups!